6 mm Float Ultra Clear Glass Glass Panelen
Beschrijving van glaspanelen van broeikasgassen
Shandong Yaohua Glass vervaardigt gehard glas, geïsoleerd glas, gelaagd glas voor de bouwtoepassing, zoals de glazen kaspanelen, zelfs de ultraheldere kasglazen panelen enz. Onze producten zijn gecertificeerd met het CE / ISO9001 / CCC kwaliteits- en veiligheidscertificaat. De float broeikasglaspanelen zijn in een gecontroleerd proces intensief verwarmd en snel gekoeld. Helder gehard glas breekt niet in scherpe scherven, maar breek in kleine stukjes of fragmenten. Met hun vorm, en snijdt of veroorzaakt niet zo gemakkelijk schade als gewoon glas. Het wordt dus ook het veiligheidsglas genoemd.
Voor de glazen kaspanelen zijn ze van gehard glas, met deze kenmerken, thermische bestendigheid, sterkte en veiligheid zijn de belangrijkste overwegingen. Gehard glas komt het meest voor bij bouwprojecten. Gehard glas wordt ook veel gebruikt in de bouw, voor frameloze glazen deuren, schuifdeuren of toepassingen waarbij menselijk contact en veiligheid een rol spelen. Mobiele telefoons hebben soms gehard glas in hun constructie, vanwege de duurzaamheid en krasbestendige kwaliteit.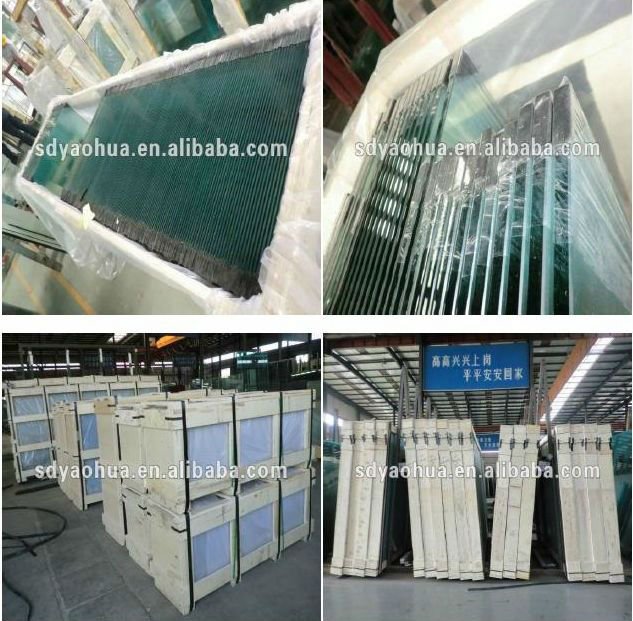 Producten Informatie
Veiligheid: na het breken van fragmenten, niet om het lichaam pijn te doen.
Kracht: het heeft 4-5 maal meer kracht dan gewoon glas.
Hete stabiliteit: goede hete stabiliteit, het kan 3 keer temperatuur verdragen dan gewoon glas, kan ook een verandering van boven 200 ° C ondergaan.
Glaskleur: helder, brons, blauw, groen, grijs, blauw en andere kleuren
Randbewerking: kantrand en gepolijste rand
Hoek: veiligheidshoek en ronde hoek
Waterstraalsnijden: uitsnijdingen, scharnier, Mickey Ears
Producten Verpakking
1.papier tussen elk stuk glaspaneel
2.100% zeewaardige houten / multiplex kisten
3. ijzeren riem voor consolidatie
bedrijfsinformatie
Shandong Yaohua Glass Co., Ltd werd opgericht in 1985, met meer dan 30 jaar productie-ervaring en ongeveer 20 jaar ervaring exporteren. Op dit moment zijn er ongeveer 400 werknemers, 2 grote moderne standaard fabrieken, meer dan 40.000 vierkante meter productiegebied.
Product Categorie : Gehard glas > Veiligheidsglas